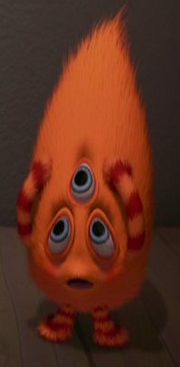 Kirby is a character in Chicken Little. He is Melvin and Tina's son.
Personality
Kirby is sweet, kind, funny, and cute, but is also quite cowardly.
His personality is basically equivalent to Chicken Little.
Appearance
Kirby is a little orange baby alien with four legs with red stripes and three blue eyes.
Trivia
Kirby is sometimes thought to be the deuteragonist, tritagonist, and secondary tritagonist of the film. This is not true as he had only first appeared at the middle of the film.
Kirby shares some similarities with Chicken Little: They both wanted to make their fathers proud.
Gallery