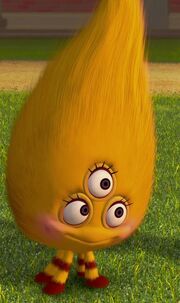 Tina is a character in Chicken Little. She is Melvin's wife and Kirby's mother.
Personality
Tina is sweet and welcoming, unlike her husband.
Appearance
Tina is a small yellow alien with four legs with brown stripes, brown eyes, and thick eyelashes.
She wears pink blush.
Trivia
Coming soon!
Gallery
Coming soon!